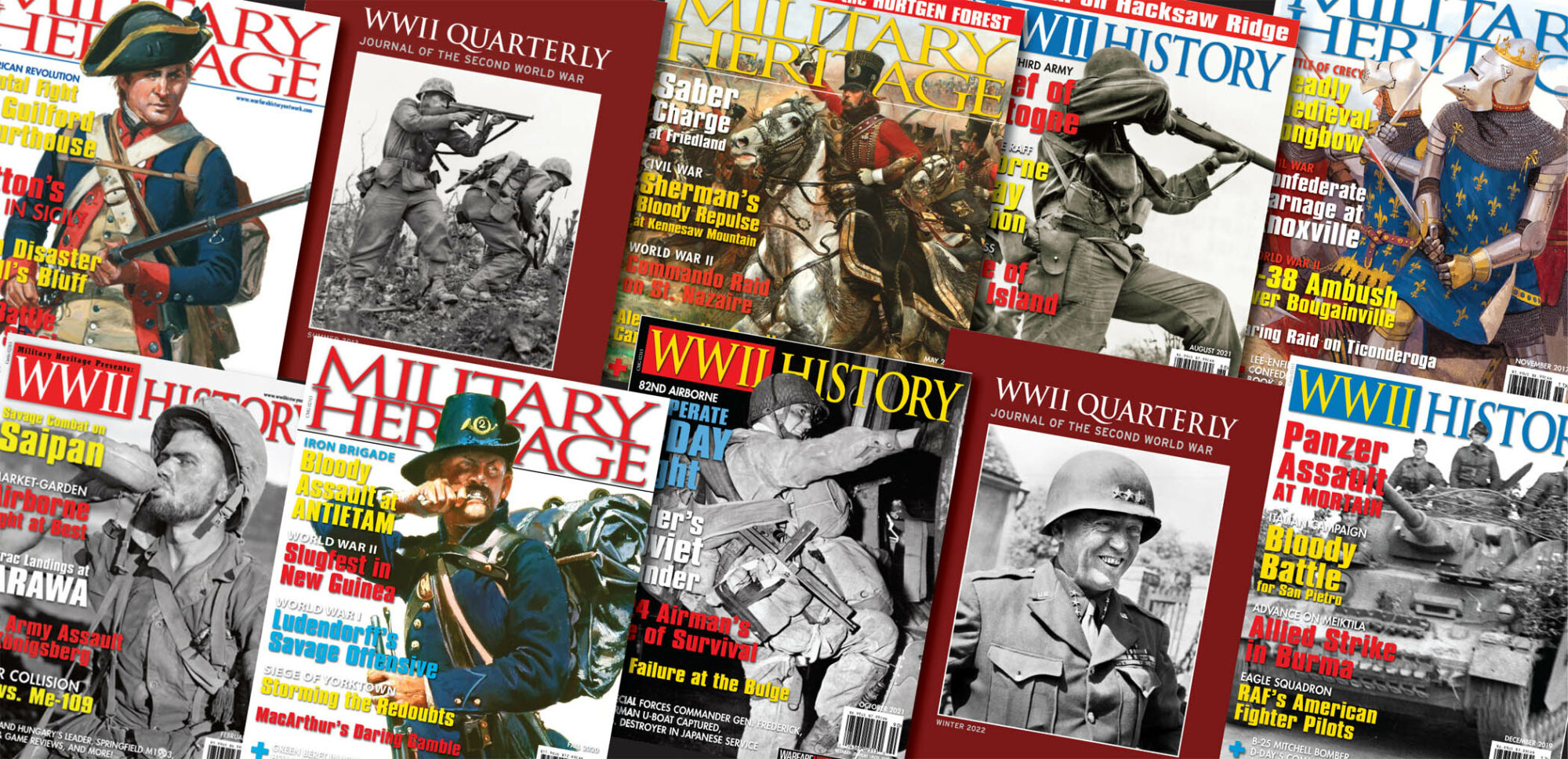 Publications
For 20-years Sovereign Media has been producing comprehensive military history coverage with their collection of print and digital publications. All-Access Digital members can begin their reading and research by starting here with our back issue index. Interested in a print subscription? Click the issues below to learn more.
WWII History
WWII History Magazine is the foremost authority on the greatest war in history. Each issue will bring you new insights, and a fresh perspective on the Second World War. Our first-hand accounts from WWII veterans describe what it was like to be in the thick of the fighting, and our in-depth stories, researched and written by our expert contributors, describe the events of the war as they unfolded. From the Japanese invasion of China and Manchuria in the 1930s, Hitler's invasions of Europe and Russia, and the many other theaters of conflict, WWII History delivers a greater understanding of the deadliest war in human history
View All Back-Issues
Military Heritage
From the earliest accounts of battles and men at war to the age of modern warfare, Military Heritage Magazine chronicles the entire history of armed conflict. There isn't a more insightful or more handsomely illustrated military history magazine. Revisit the American Civil War and follow Patton to Bastogne during the Battle of the Bulge. Side with Caesar at the pivotal battle of Alesia. Take the measure of Napoleon. Re-examine the Crusades in the light of modern scholarship. Cross No Man's Land at the Battle of the Somme. Examine the weapons, and meet the soldiers and their leaders.
View All Back-Issues
WWII Quarterly
WWII Quarterly, the Hardcover Journal of the Second World War is printed in full vivid color on thick, luxurious paper. But as handsome as these editions are, it's what's inside each issue that will reward you the most. Each 100 page volume includes feature-length, in-depth articles that bring specific aspects of the war to life for you in ways very different from the same "war stories" or accounts found elsewhere. Our writers have been specifically recruited for their ability to bring you the real taste and feel of the battles, the strategies, the tactics, the weapons, and the technology that made it all happen.
View All Back-Issues
Civil War Quarterly
Civil War Quarterly is a hardbound volume chronicling America's War Between the States, which Sovereign Media published from Summer 2013 to Winter 2016. Each issue chronicles the Civil War from both the North and South perspectives, and includes maps, rare illustrations, strategies & tactics, and profiles of the leaders. As a bonus to Warfare History Network subscribers, we are making full digital issues of this (now) collectible magazine available as part of your unlimited digital membership. Just click on the cover of the issue you want to read, and full table of contents will come up, with a link to each article. Read it online or print a pdf. Enjoy!
View All Back-Issues